English
Spooktacular Halloween BBQ at Luminor Hotel Jember
Jumat, 21 Oktober 2022 - 04:13 |
19.04k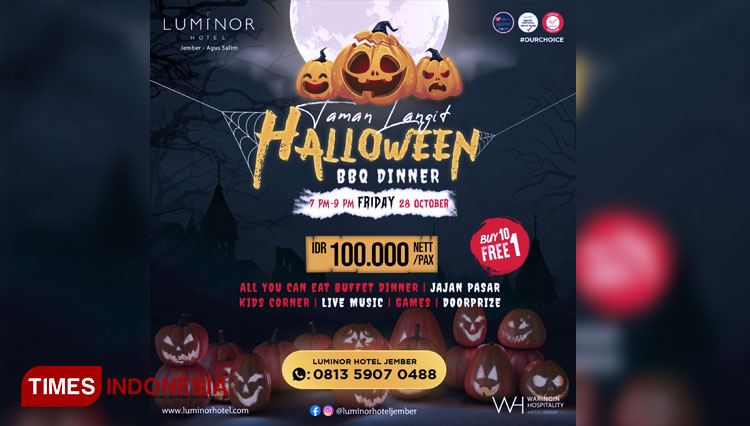 TIMESINDONESIA, JEMBER – Spending time with your loved ones after a long day of work is important for your emotional and mental well-being. You should find any fun and engaging activities to spend your time with your family. It would be perfect if you also have some food to share and enjoy. Therefore, it means you have to decide the perfect place to have a family dinner. Nowadays, many hotels and restaurants offer many kinds of dinner packages for those who want to have some family meals together.Luminor Hotel Jember can be one of the best choices to help you turn your dinner time into quality family time.
Luminor Hotel Jember is a three-star hotel located in the heart of Jember, East Java. It is nestled on Jalan KH Agus Salim 28, to be exact. This hotel has a semi-resort concept with 74 rooms divided into three categories, namely Deluxe, Executive, and Suite. The hotel is beautifully designed with modern interiors and concept, fully equipped with high quality facilities and friendly service from the staff. This three-star hotel will surely give you the best staying experience.
In addition to that, Luminor Hotel Jember is well-known for its wide selection of foods that ranges from local to international cuisines. The foods served in this hotel have become the highlight of the staying experience.
Luminor Hotel Jember offers different kinds of exclusive All You Can Eat packages each month for the guests. Last month, Luminor Hotel Jember held a Sky-Park-themed All You Can Eat BBQ. It was an outdoor event in which the guests could enjoy any kind of seafood BBQ while getting mesmerized by the view of the starry night sky.
This time, Luminor Hotel Jember is back with the outdoor event. This October, Luminor Hotel Jember will host a Halloween-themed BBQ on 28 October 2022 at 7 PM to 9 PM WIB (Western Indonesian Time).
The guests will be pampered with scrumptious BBQ consisting of a wide selection of seafood and many kinds of meat. In addition to that, the guests will also be entertained by live music and many exciting games.
"One thing for sure is that we will be serving a wider selection of menu than the ones served in the last event," said Chef Jamal, the Executive Chef of Luminor Hotel Jember.
"Halloween will be the main theme of the dining event, so we will be serving Halloween-themed foods," Chef Jamal added.
To make it merrier and more spooktacular, the decoration and the costumes of the staff will suit the main theme. Isn't it exciting?
To join this spooktacular event, you can make a reservation for IDR 100,000 / pax. With this rate, you will be able to enjoy all kinds of All You Can Eat menu and have the chance to get an exciting gift voucher from Luminor Hotel Jember.
"In this Halloween-themed BBQ, we also offer Buy 10 Get 1 Free promotion," said the Marketing Communication of Luminor Hotel Jember, Dian Puji Yuliandari.
For the reservation, you can contact 081359070488. Don't miss the chance to enjoy the spooktacular Halloween event atLuminor Hotel Jember!. (*)
**) Dapatkan update informasi pilihan setiap hari dari TIMES Indonesia dengan bergabung di Grup Telegram TI Update. Caranya, klik link ini dan join. Pastikan Anda telah menginstal aplikasi Telegram di HP.
---
---
---